Don't worry about calling the fashion police for me anymore! I have stumbled upon the greatest clothing piece ever. It's called a
Hip-T
& it serves its purpose well, hanging on your hip covering the not-so-cute faux pas of showing too much muffin top or the top of the cheeks when wearing your trendy low rise jeans. I do heart my assets so please do not misunderstand the message...its just not something that I want to show off in public!

This fun and flirty group has cracked the code as to how to handle this the easy way. We've all had the dreaded morning rush of trying layer after layer...length after length, trying to find the best answer to cover the midsection. Want the secret? Here's the lowdown:
This is a problem - is this you? or has this ever been you?



If you answered YES - then you need a hip T ASAP!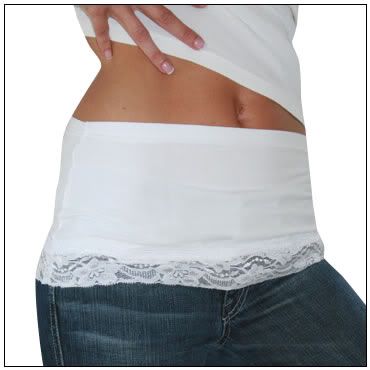 These beauties come in a variety of colors and styles so it is easy for you to pick what fits you best. The price is very reasonable, so there is no reason for you not to invest!
I received the white lace Hip-T
and it has done wonders to my outfit. I am in love with it...and truthfully probably wear it too much! It true, you will want one in every color! Plus, its fun to show off - because you can't find these just anywhere.
See for yourself. Visit the site & check it out at
www.myhip-t.com
. You won't be sorry that you did! Not only should you pick up one for yourself - rescue your female family and friends!
Shhhh! A bonus:
My Hip-T
is advertising free shipping on Thursdays & Fridays until December 19th!

As their quote holds true...
"DON'T LET YOUR STYLE FALL THROUGH THE CRACK!"